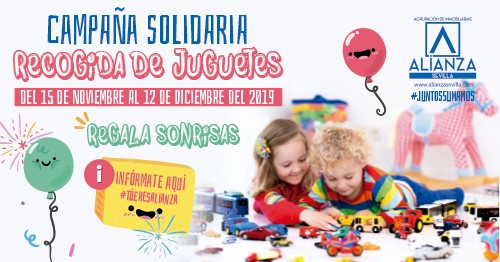 VI solidarity campaign to collect toys
– "GIVE SMILES" –

Like every year, our office will become a collection point for second-hand toys that will be delivered to Sevillian families who need it most in a solidarity act on December 12.

From November 15 until December 12, you can deliver the toys in our office in Calle Nuestra Señora de las Mercedes local 1, Seville.

The Friends of Parque del Alamillo Association will be in charge of transferring toys to families once they have undergone a process of repair and restoration whose objective is that all the children of Seville can enjoy their right to play this Christmas.

If you have a second-hand toy at home that your children don't use, don't think about it anymore.

This year we hope to exceed the figures reached in previous campaigns.

The most important thing is the smile of the little ones.

COLLABORATE !!

We show you an image of last year's toy collection campaign.